Our Organic Greek Saffron Tea Bestsellers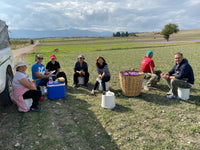 Our Story
We started our Greek wellness journey when we were introduced to the wonderful Greek red saffron. Over the years, we savour the taste of Greece by exploring all the wonderful aromatic Greek herbs, Greek olive oil, Greek herbal tea, Greek honey etc...
Read More

QUALITY
We source top quality products from Greece and deliver them to your doorstep.

MADE IN GREECE
Greece has one of the best climate and terrain to produce natural goodness.

WELLNESS
Embark on a journey with us to feel good inside out.
Testimonials
Love the variety of all natural ingredients packed with the saffron tea. Feel great to have incorporated them into my diet for better health and wellness.

Ivana
Loves the lavender tea! Very light and not over powering. 

B.C
The Green & Blu EVOO has a distinct freshness and taste grassy with a long peppery tang. Try it along side with other oil and the presence of the freshness is obvious. Great when we simply drizzle on salad as just as a dip for bread to enjoy the freshness.

Shirley
This is my third purchase with Botana Tea! What caught my interest was when I knew the tea leaves were specially handpicked! These tea were truly up to its standard. Very refreshing. The benefits of these tea were clearly stated in the website and they do serve its purpose! Absolutely worth its value!

Yu Shan
Love the saffron tea! I drink it after meals to help digestion and the taste is really fragrant and nice. 

Alexis